(via TheNewswire)
VANCOUVER, CANADA –TheNewswire –March 17, 2023: Sitka Gold Corp. ("Sitka" or the "Company") (CSE:SIG) (FSE:1RF) (OTCQB:SITKF)ispleased to announce it has commenced its 2023 diamond drill program of up to 10,000 metres of drilling at its RC Gold Project ("RC Gold" or the "Project") in Yukon. This drill program will be primarily focused on step out drilling from the recently announced Blackjack and Eiger intrusion related gold deposits which remain open in all directions and have an initial inferred resource estimate of 1.34 million ounces of gold (see news release dated January 19, 2023). The road accessible, contiguous 376 square kilometre RC Gold Project is located in the Yukon's prolific Tombstone Gold Belt (TGB), approximately 100 kilometres east of Dawson City.
"We are excited to get an early start on the 2023 diamond drilling program at the RC Gold Project," statedCor Coe, P.Geo, Director and CEO of Sitka Gold. "The recently announced 1.34 million ounce initial gold resource at RC Gold remains ripe for considerable expansion and we expect the drilling planned for this year will add significant ounces to this mineral resource. The fact that Sitka has defined two gold deposits that come to surface, totalling 1,340,000 ounces gold and open in all directions, with just 13,000 metres of drilling completed since exploration efforts began, really demonstrates the district-scale potential of RC Gold. With a largely undrilled, 1.5 km mineralized corridor potentially linking these deposits together (see Figure 1) and several additional high priority, intrusion related gold targets yet to be tested across this 376 square kilometre contiguous land package, we believe we have only scratched the surface of the world class potential this Project has to host several multi-million ounce gold deposits."
While expansion of the Blackjack and Eiger deposits will be the main focus of drilling efforts this year, the potential for additional discoveries across the district-scale land package remains robust with several high priority, intrusion related gold deposit targets yet to be tested. A 1.5 kilometre long mineralized corridor also remains open between the Blackjack and Eiger deposits with the potential for gold mineralization to link the Blackjack and Eiger zones together, as well as outwardly to the east and west and to depth (see Figure 1). With the 2023 winter diamond drilling program underway, the Company expects to see meaningful advancement at RC Gold over the coming months.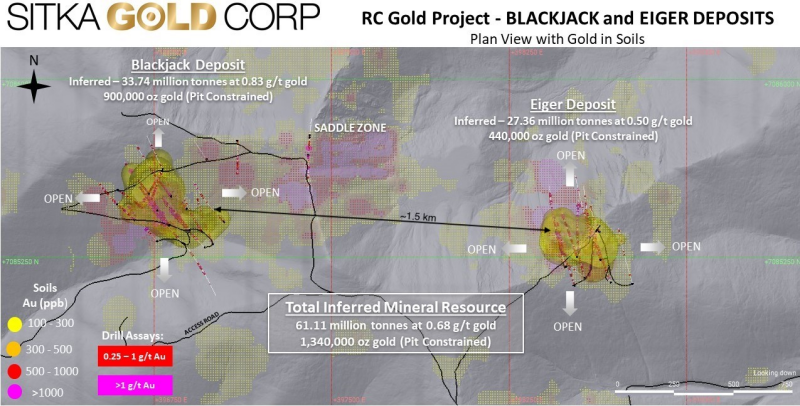 Click Image To View Full Size
Figure 1: Blackjack, Saddle and Eiger zones at the RC Gold Project
The Blackjack and Eiger zones are typified by intrusion-hosted mineralization within the 2 km x 500 metre extensional corridor (see news release dated June 13, 2022) that provides a structural and genetic link between the Blackjack zone and Eiger zone intrusions (see Figure 2). The Blackjack and Eiger deposits remain open in all directions and have excellent potential for resource expansion. The Saddle zone, located midway between the Blackjack and Eiger is characterised by metasedimentary rocks intruded by dykes and sills. This zone remains relatively untested but contains significant mineralization with the potential to add additional resources as demonstrated by drill hole DDRCCC20-01 which returned 0.52 g/t gold over 84.8 m from surface and DDRCCC21-19 which intersected 80.0 m grading 0.59 g/t gold from 48.0 m depth that included 16.0 m grading 2.18 g/t gold (see news releases dated November 23, 2020 and January 20, 2022 respectively).
Drilling at the RC Gold project has been planned to provide Sitka geologists with a solid database of drilling data to understand controls on mineralization observed in both intrusive and metasedimentary host rocks while also providing the necessary spatial density to generate the initial resource estimate. Assay results from drilling along with structural information obtained from oriented core, data from detailed core logging, geological mapping, reprocessed Lidar data and interpretation of an airborne magnetic geophysicalsurvey have been instrumental in forming the basis for targeting high priority areas within the RC Gold Project, including the discovery of the Backjack and Eiger deposits. This methodology will continue to form the basis for future exploration work on the RC Gold Project. The 2023 drilling program will be focused on…


Read More: Sitka Commences 2023 Diamond Drill Program at its RC Gold Project, Yukon